LEVERAGING PERSONAL AND CULTURAL DIFFERENCES
WHERE PEOPLE DON'T GET ALONG, THE PROBLEM OFTEN ISN'T INCOMPATIBILITY, IT IS USUALLY THE LACK OF SELF-AWARENESS AND PEOPLE SKILLS.
Intercultural DISC™ combines and seamlessly incorporates the most widely used behavioural model, DISC, with the most researched intercultural frameworks to create a practical, post-globalisation application which can easily be integrated into a company's existing programs.
CHALLENGE #1
People
Your greatest asset or liability is people. It depends on your level of cultural intelligence.
Understanding how cultural background and personality types influence behaviour, thinking and expectations is the strategic advantage of high-performing companies. Intercultural DISC™ helps you reduce conflicts, increase sales, trust, customer and employee engagement.
CHALLENGE #2
Diversity
Diversity is about differences, inclusion is about leveraging them to create synergy.
People think, behave and work in such different ways that it can cause stress, confusion, disengagement which leads to high staff turnover and poor customer retention. This challenge multiplies across various cultural groups such as generations, nationalities, ethnicity, personality types, genders.
CHALLENGE #3
Complexity
Outdated, over-complicated and incomplete solutions won't fix 21st century challenges.
Pre-globalisation leadership and management models are not designed to address the new challenges of the 21st century and business like yours are forced to pay the price. Cultural intelligence is the most important skill that can be learnt and dramatically improved.
Online Assessment
Online assessment is available for individuals and corporate clients. It takes only 2 minutes to complete and receive your personalised 21 page report about your cultural orientation and behavioural style.
Online Learning
Regular webinars and the ICQ Leadership Academy are designed for busy executives and leaders whose performance depends on how well they deal with people from different cultural backgrounds.
Training and Coaching
In-house and open training are available for groups of 10-15 people or 1 to 1 coaching in person or online. The sessions are tailor-made, CPD Standards accredited and all participants receive a certificate of attendance.
Accreditation
If you are a coach, trainer or consultants who wants to stand out of the crowd by offering the latest solutions, get certified to prepare your clients for the new challenges of multicultural adaptability in the 21st century.
Partnership
We are currently accepting applications for affiliate partnerships from complementary businesses, i.e. established leadership training companies that would like to offer Cultural Intelligence.
Intercultural DISC™ is an internationally accredited and endorsed  framework to     help  you understand and connect with people who have different behaviour and communication styles due to their cultural background such as their generation, gender, profession, nationality and personality type.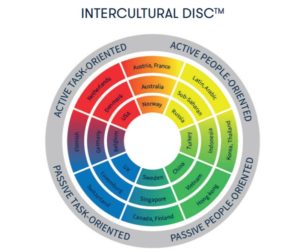 It combines the latest business data with academically validated research based on Cultural Intelligence  to help you  recognise and optimise individual behaviour in a fast-paced, culturally diverse environment.
Intercultural DISC™ focuses on individuals and it gives you only what works instead of flooding you with dry and boring theories building on what you already know. The program involves an online assessment, webinars, online or blended coaching and group training.
Results speak louder than theories...
In one of our latest projects, an iconic, British, luxury hotel where Intercultural DISC™ has been used to treat customers and employees the way THEY needed to be treated, the relevant department turned over £1.5 million and it was voted number 8 in the world by Booking.com customers. Not the hotel...only that specific department out of 890,000 hotels 88,663 destinations in 224 countries! It is  about understanding what they need, what they want and how you can exceed their expectations. 

All courses are CPD Standards accredited and they are based on initial assessments to measure and  leverage cultural and behavioural differences to create tailor-made leadership, management, team-building and on-boarding programs. 
Certification courses for trainers and consultants are available in Europe and the USA and training programs can be rolled out internationally through our network of associates all over the world.
Training, coaching and consultancy for corporate clients are available through ICQ Consulting. Please feel free to contact us for a confidential consultation. 
Testimonials
"The Platinum Rule® model spans all cultures BUT it is important to remember that people around the world are socialized into a certain preferred way of behaving and The Intercultural DISC model explains why. It is a practical framework based on the most researched cross-cultural models to explain how national, cultural values and beliefs shape our behavior.
This is the ideal tool in today's fast-paced, globalized world where the new generation of business people and leaders need to be culturally intelligent and adaptable without being experts in 100s of different cultures. Intercultural DISC takes the Platinum Rule® into deeper layers of understanding people so they can be treated the way they want and need to be treated. The more you understand people, the better rapport you will have with them which ultimately guarantees better interpersonal results."
Dr. Tony Alessandra, author of The Platinum Rule® and The NEW Art of Managing People, Hall of Fame keynote speaker, Top 50 marketing expert in the world
"In a traditional cross-cultural training the participants learn to understand the cultural dimensions of the presented cross-cultural concept. They learn to differentiate the two poles of the respective cultural dimension, identify their reflection in real life situations and in good case scenario they look for ways how to bridge the gaps. More often than not, the participants ask what role do the individual personal values play in the cross-cultural theories. And this is where Intercultural DISC gives the answers. It creates the link between individual behavioral preferences and cultural dimensions which brings new perspective to the cross-cultural research. Intercultural DISC offers every participant detailed insights on their natural behavior and a toolbox to work effectively with people of different behavioral preferences. Great tool that has filled the gap!"
Andrej Juriga, CQ Expert, Founder of Cultural Bridge
"ICQ Consulting is everything you can wish for in a cross-cultural consultancy: creative, dynamic and they can make this complicated topic understandable and practical. Their approach uses the most researched tools in an innovative way focusing on what works in this fast-paced, borderless business world. Trainings are interactive and shocking sometimes, but they deliver results and tangible return on investment."
Eniko Csontos – Operations Manager – Motivus
Contact Us
Do you want to learn more about Intercultural DISC™ and how it can help you?
Copyright © 2016 ICQ Global. All Rights Reserved.