CALOMM™
The Culturally Aware Leadership, Organisation and Management Model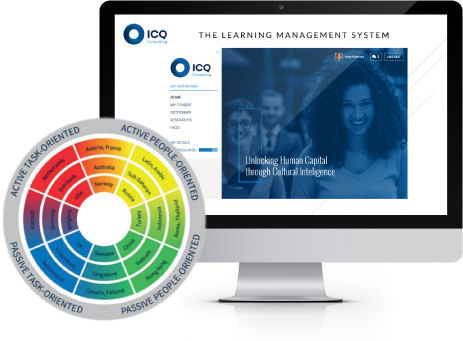 Companies can outsource any activities nowadays: manufacturing to China, call centres to India, IT to Thailand, marketing to Facebook, distribution to Amazon, they have access to the same opportunities. The only remaining competitive advantage they have left is their people.
CALOMM™ – Today's problems cannot be solved with yesterday's solutions
CALOMM™ is a strategic organisational development model that can help companies identify the right combination of organisational culture, leadership styles, organisational design and management practices.
Leading in today's global environment is substantially different to leading yesterday's mostly local or regional business.
CALOMM™ can help you identify the specific leadership traits that are required to address the needs of your modern and diverse organisational stakeholders.
From pyramid to flat, how do you know which organisation design model is appropriate for your company?
CALOMM™ can help you determine which is the right organisational structure for the entire company or its divisions.
Managing is the process of making things right and the leadership skills of the managers is key to success.
CALOMM™ can help you identify, develop and implement the right management strategies that can help you improve engagement and productivity.
Intercultural DISC™ – The Competitive Advantage
"ICQ Consulting delivered a great interactive presentation to BBC managers about cultural intelligence for leadership. BBC is a global and multicultural broadcaster so in order to be an effective organisation we need to have good cultural intelligence (CQ). Csaba gave us the know-how and tools to be able to achieve this."
Toby Mildom, Inclusion and Diversity Lead for BBC Design & Engineering, Finance & Operations and Radio
---
"Having been a Leader in international hospitality and tourism,  ICQ Consulting's method identified my personality and work preferences to a surprising accuracy despite my vast international influences. Their Intercultural DISC model and in-depth explanation of personality types in the work place, not only matched my personal experience of several work personality types but helped me to understand the best approach to manage culturally influenced personality types and encourage the best results for both management, staff and clients alike.

The message rooted at the heart of ICQ Consulting's vision is one that highlights a fascinating and long overdue key tool for our increasingly diverse work force. Topical and refreshing, it will maximise staff retention, communication and now I use it to better understand and cater to my international clients. The ICQ Consulting's training program delivers adaptable management methods to an ever adapting world."
Neil Weaver – Guest Relations Manager (5 star luxury hotel, UK)
---
"Diversity is the greatest asset or liability. Ignoring their cultural and personal differences in a multicultural world destroys performance, leveraging them makes organisations profitable and sustainable. Solutions created before globalisation are not designed to address the people challenges of the 21st century,  that is what Intercultural DISC was created for. It is the ideal  solution to create an inclusive environment supported by measurable and repeatable results.
Robert Cubbage, Ernst & Young Partner
---
"My teammates found their profiles to be largely accurate and gave them language to discuss their behaviors with each other. Thus the survey acted as a third-party, a facilitator to open and sustain our exchange, whereas, if I had raised these conflicts of behavior and issues of difference as "the boss", they might've  perceived the situation as more threatening an been more reluctant to share and come to greater agreement on how we work together."
Dr. George F. Simons  –  www.diversophy.com
---
"The Platinum Rule® model spans all cultures BUT it is important to remember that people around the world are socialized into a certain preferred way of behaving and The Intercultural DISC model explains why. It is a practical framework based on the most researched cross-cultural models to explain how national, cultural values and beliefs shape our behavior.
 This is the ideal tool in today's fast-paced, globalized world where the new generation of business people and leaders need to be culturally intelligent and adaptable without being experts in 100s of different cultures. Intercultural DISC takes the Platinum Rule® into deeper layers of understanding people so they can be treated the way they want and need to be treated. The more you understand people, the better rapport you will have with them which ultimately guarantees better interpersonal results."
Dr. Tony Alessandra, author of The Platinum Rule® and The NEW Art of Managing People, Hall of Fame keynote speaker, Top 50 marketing expert in the world
---
 "In a traditional cross-cultural training the participants learn to understand the cultural dimensions of the presented cross-cultural concept. They learn to differentiate the two poles of the respective cultural dimension, identify their reflection in real life situations and in good case scenario they look for ways how to bridge the gaps. More often than not, the participants ask what role do the individual personal values play in the cross-cultural theories. And this is where Intercultural DISC gives the answers. It creates the link between individual behavioral preferences and cultural dimensions which brings new perspective to the cross-cultural research. Intercultural DISC offers every participant detailed insights on their natural behavior and a toolbox to work effectively with people of different behavioral preferences. Great tool that has filled the gap!"
Andrej Juriga, CQ Expert, Founder of Cultural Bridge
---
 "I am usually a bit sceptical about this type of tests, but the intercultural disc gave a surprisingly accurate assessment of me – while also providing me with some eye-openers. Definitely worthwhile."
Carsten Primdal, CEO of Vantage Compliance
---
 "Csaba has deep experience of helping leaders and their organisations understand and address cross-cultural issues and I have no hesitation in recommending him as a consultant in this area."
Ian Dodds, CEO Ian Dodds Consulting Ltd
---
"I am very impressed with how you have pulled together the two dimensions of culture and personality.  I applaud you!  This is fascinating and impressive work. I definitely believe you are on the cutting edge with your work, and that this is key to 21st century collaboration.  Because globalization and migration have created so many people who do not conform to standard cultural profiles, we need a more sophisticated approach, and you've got it!"
Sharon Kristjanson, SVK Intercultural LLC
Our custom-tailored solutions
Organisational Development

According to Deloitte 89% of CEOs know that the combination of leadership, culture and engagement are the most urgent priorities in today's VUCA environment.

CALOMM™
addresses the people challenges of the 21st century by
fixing the root cause of the issue instead of dealing with the symptoms only
. Not only does it provide solution to every stage of the corporate cycle but it is the only complete, 21st post-globalisation framework that made its developer,
dr Jorge Mastrapa, one of the world's top 30 organisational culture experts in 2016.
Copyright © 2017 ICQ Global. All Rights Reserved.