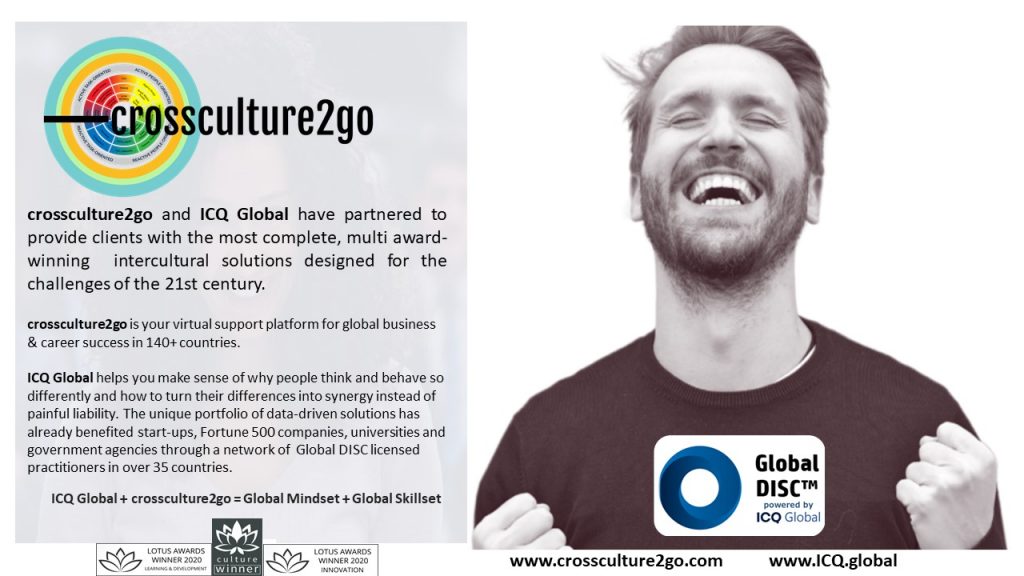 The world has completely changed in the last 40-50 years, technological evolution and  globalization have accelerated and we are dealing with people from different cultural backgrounds more than ever. Solutions based on that life without internet, virtual collaboration and multicultural teams are struggling to get the results they are hoping for. 21st century challenges require up to date approaches that are uncomplicated, practical and proven.
As we cannot be the best at everything, partnering with the leading experts in our field and creating synergy is the key to providing our clients with the most complete, multi award-winning solutions to deliver outstanding value.
We are happy to announce that crossculture2go and ICQ Global have partnered to be able to offer the most up to date, internationally accredited coaching and training for individuals and companies who want to thrive in an international and intercultural environment.
Crossculture2go is your virtual support platform for global business & career success in 140+ countries.

Author of Uncommon Sense in Unusual Times, developer of the multi award-winning Global DISC model

Latest posts by Csaba Toth (see all)
Copyright © 2020 ICQ Global. All Rights Reserved.