What is ODISC?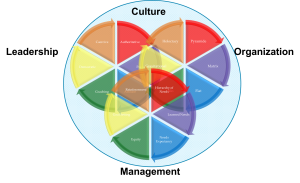 Organizational DISC is an organizational assessment tool used to identify your company organizational culture, improve leadership efficiency, organizational alignment, and management efficacy. It helps employees truly develop a sense of belonging and engagement, increasing work productivity, teamwork and communication. ODISC is the assessment tool used by CALOMM™ as part of the overall Culturally Aware Leadership, Organization, and Management Model consulting process.
What do you learn with ODISC?
As an organizational culture assessment, ODISC provides customers with the first truly representative analysis of an organization culture. It can help organizational leaders understand in a non judgmental way the actual set of values and expectations of their organizational members. The ODISC assessment is used to determine:
Your Organizational Cultural Traits
Organizational Leadership Preferences
Organizational Design Preferences
Organizational Management Preferences
How does it works?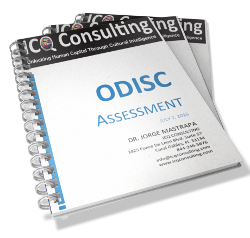 ODISC is a questionnaire distributed to the members of your company aligned to your specific organizational boundaries. Regardless of the current state of your organization, from a classical top-down, to the more modern matrix, silo, or even flat organizations, ODISC can be used to identify and address your organizational culture developmental opportunities. The only requirement for ODISC is that it needs to be distributed to a statistically significant number of employees and managers within the organization (or the subset of the organization) that is being measured.
For more information about ODISC, CALOMM™, or how we can help you address your organizational culture issues you can contact us or write to us at:
ICQ Consulting
1825 Ponce de Leon Blvd. Suite 57
Coral Gables, FL. 33134
USA
info@icqconsulting.com
Copyright © 2016 ICQ Global. All Rights Reserved.